Our Trusted Tacoma Shower Installation and Bathtub Installation Services
A great way to spruce up your bathroom without doing a complete renovation is to change up the shower and add a bathtub.
Mounting a dynamic showerhead and installing an accessible bathtub can completely revitalize the look and feel of the entire room.
Before our experts begin any project, they get full sign off on plans so that they are on the same page as the homeowners.
Once they start, our experts provide constant updates and are available to answer any questions you may have regarding progress. Our professionals understand that remodeling is a complicated task, and we're available to answer all questions along the way.
With our expert remodeling, construction, and design team, you'll get the dream bathroom you've envisioned.
Shower and Bathtub Installation
Nothing beats a shower when you want to relax after a tiring day. It helps wash your body and soothe sore muscles. If you have the time, you'd also love to soak in the bathtub for added relaxation and grooming.
However, shower and tub installation entails more than you think. You have the option to pick from various tub and shower types. For instance, a freestanding tub boosts the aesthetic appeal of your bathroom.
Likewise, a rain shower head adds to the elegance of the space. You can also go for customized tub and shower installation. However, that depends on the expert you pick – after all, not every service provider offers personalized services.
You can also go for a curbless walk-in shower to make your bathroom accessible for individuals with mobility issues.
Whatever design and style you choose, rest assured it will upgrade the functionality of your space. In fact, if you plan to sell your home, there's no reason not to consider a re-installation.
A survey reveals that 80% of respondents preferred 3 features in a bathroom: an exhaust fan, a linen closet, and a tub/shower combo.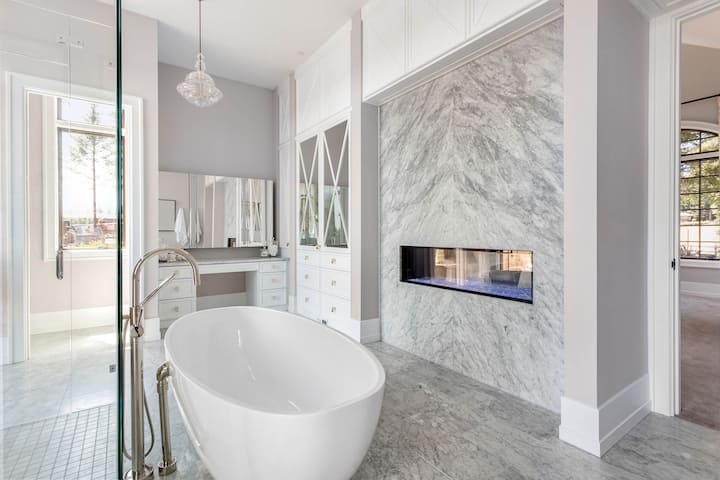 Get in Touch With Us
Let's chat about a professional bathtub or shower update for your Tacoma home. We're excited for the chance to work with you!
Installing a Walk-In Shower in Tacoma
A bathroom remodel involves several steps and different projects. One big part of the remodeling is installing walk-in showers. Here's everything you need to know about it:
A common misconception about walk-in showers is that they are stand-alone showers without a tub. While the second bit is true, the entire statement lacks accuracy. Unlike conventional showers, walk-in showers do not have doors.
Instead, they have glass panels that separate the bathroom from the shower. Not only do they offer a more sleek look, but they also make the space more accessible.
Walk-in showers are an excellent option for those tight on budget for bathtub installation. On top of that, they are gaining traction with each passing day. A survey unveils that around 64% of respondents wanted a walk-in shower in their homes.
You can hire experienced shower installers to mount a walk-in shower in your bathroom. In fact, if you have an existing shower or bathtub mounted, you most definitely need professionals to handle the job in terms of removal.
Attempting a DIY walk-in shower installation may cost you more money and effort in the long run. If you don't have the right professional background and tools, you may be unfamiliar with the technicalities of such an important installation and could end up making a costly mistake.
Bathtub Replacements
Bathtub replacements can be challenging, but not for a skilled bathtub installer in Tacoma. According to Forbes, a tub replacement may cost you as little as $1,400. However, if you're willing to go all out, you can spend as much as $10,700.
The final costs largely depend on the bathtub type you choose. After all, the construction and materials of each bathtub differ. For instance, basic options like fiberglass tubs fall on the low end of the spectrum. Conversely, porcelain and copper tubs can cost hundreds of dollars.
What's more, you also have to consider the labor costs. The services typically include removing the old bathtub, preparing the surface, and installing the new tub. And if the old plumbing turns out to be damaged, be prepared to pay more.
Though all the costs combined can feel overwhelming, you'll always find quality Tacoma bathroom remodeling contractors when you contact us.
Tub-to-Shower Bathroom Conversion
Tub-to-shower conversion means upgrading to a freestanding shower. It makes your bathroom more spacious and lets you get rid of worn-out bathtubs. Here are a few other perks of this conversion:
People often trip while stepping out of the bathtub. Removing one can make your bathroom more accessible.
It goes without saying that tubs require more upkeep. So, investing in a conversion means you'll spend less time cleaning and maintaining your bath.
Tubs are focal points in bathrooms, given their large sizes. So, an old, unsightly tub can make the entire bathroom unappealing. Replacing it with a shower can make your bathroom look more elegant. Installing stylish tiles beside one will be the cherry on top.
Factors that Make Showers Accessible for Disabled Individuals
How easy would it be for you to shower if you were in a wheelchair or visually impaired?
An able-bodied homeowner is likely to overlook such considerations. However, in the future, you may invite someone with special needs, or a dear one in your family may encounter an unexpected illness. Therefore, making the shower accessible and functional is crucial for the impaired and the disabled.
Here are the ADA shower standards for an accessible shower:
The roll-in shower height must not be taller than ½ inch.
Conventional roll-in showers must be at least 30 inches wide and 60 inches deep.
Grab bars must be mounted no higher than 36 inches and no lower than 33 inches.
Handicapped showers should have a shower spray unit with a hose of 59 inches or more
Further, installing non-slip mats below the shower area using contrasting colors, and providing efficient lighting help make your bathroom more accessible.
Get in Touch With our experts & Get a Quote Today
Generally, people assume that building a bathroom from scratch is the only way to revamp their current bathroom space and make it more stunning.
However, only some minor touch-ups can make a considerable difference. So, if you're tight on budget and are wanting to give your bathroom a facelift, you can start by installing a new shower or tub.
Our professionals offer skilled bathtub installation in Tacoma with customized tub designs, styles, and materials.
You can pick from enameled steel, copper, granite, fiberglass, acrylic, and more.
When you reach out to us, we'll walk you through a custom quote which will outline costs, timelines, and a work schedule.
If a new bathtub isn't what you're looking for, and you are more of a sleek-looking walk-in shower type of person, our professionals can help!
Shower installation experts in Tacoma are familiar with shower door installation, various shower head types, and mechanisms to boost the utility of your space and upgrade your bathing experience.
Our experts also recommend various features to make bathing more accessible for people with special needs. Whatever it is you are envisioning, our professionals can make it come to life.
The genuineness and transparency of our technicians have earned them a positive reputation amongst our Tacoma customers. So, don't hesitate to reach out to start getting the bathroom renovation of your dreams.