Providing Bathroom Remodeling To Tacoma Residents
A bathroom renovation is an excellent way to add value to your home. However, creating a functional bathroom that is as equally aesthetically appealing can be a challenge.
From selecting tiles to choosing vanities, you might be overwhelmed by the number of options available on the market. Each feature offers diverse sizes, styles, and finishes, so it can be hard to choose the one for you.
Our experts in Tacoma are here to save the day and make your search easier. Keeping your preferences at the forefront, our experts will help you pick the right materials for your bathroom.
Once everything is chosen, we'll upgrade the space with a new layout and design. From replacing tiles to fixtures and vanity to lighting, our professionals will transform your bathroom into something unique.
Great bathroom renovation services require a combination of creativity, technical expertise, and knowledge. Luckily, our professionals combine these assets for the best possible outcome.
Bathroom Remodeling Facts
Whether you want to go for a small bathroom remodeling or a master bathroom renovation, each comes with its own perks.
For example, you can fix an existing plumbing problem, boost your storage space, add functionality, increase your home's resale value, and most importantly, update your bathroom's look.
Here are a few lesser-known facts about bathroom remodeling:
Bathroom remodeling may include installing new features, including a shower, toilet, cabinets, countertops, and vanity. Flooring and wall painting are also a part of bathroom renovation.
According to Forbes, a budget-friendly bathroom remodeling costs around $2,500.
An average bathroom remodeling costs around $10,000.
The same highlights reveal that high-end projects can be around $30,000.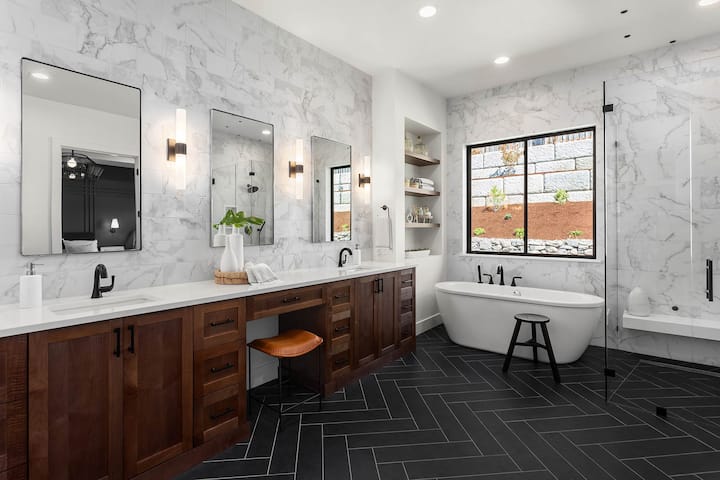 Get in Touch With Us
We're excited to hear from you about your bathroom remodeling needs. No bathroom remodel in Lakewood is too big or too small for our experienced team!
Bathroom Tile Work
The right bathroom tiles can make a significant difference to your bathroom aesthetics. They reflect your personal style and enable you to make the space water and slip-resistant. Here are some popular options:
Ceramic tiles. They are sturdy, water-resistant, and durable. You can use them on the floor and walls for a compelling look. What's more, they are cost-effective and low-maintenance.
Porcelain tiles. The durability of porcelain makes them a popular consumer choice. You can pick from various colors and patterns, and they'll look appealing regardless.
Limestone tiles. Limestone is ideal for those who prefer an elegant-looking bathroom. The brown, beige, and grey colors add to your bathroom's warmth. Even more, they blend well with any toilet, countertop, and basin color.
Marble tiles. Marble is one of the most popular tiling materials. The classic stone makes up for a contemporary-styled bathroom and offers the lifespan you expect after investing in a bathroom renovation.
Mosaic tiles. These tiles are made from different materials, from glass to ceramic. Although they are small, they give a flawless effect when put together.
Toilet Installation
Maybe your toilet is worn-out, or you simply want to upgrade an outdated toilet. Investing in efficient toilet installation services can help. Here are a few steps professionals take when installing a toilet:
Take apart the old, deteriorating toilet by switching off the water supply and disconnecting it.
Use an old cloth and put it into the floor flange to clean it.
Insert the floor bolts into the slots on the flange ring.
Unpack the wax ring and press it around the bottom of the toilet.
Remove the cloth stuffed into the flange and place the toilet on the flange.
Add plastic disks over the bolts, followed by wing nuts (tighten them with bare hands).
Firmly secure the toilet onto the floor.
Add the toilet tank and connect the water supply.
Lay the toilet seat on the bowl and insert plastic bolts to secure it.
Making a Bathroom Accessible for Disabled Individuals
People with minor to major disabilities encounter accessibility challenges in standard bathrooms. Therefore, it is wise to invest in features that boost accessibility and ease the life of a loved one with special requirements. Here are a few improvements to consider:
Since people with disabilities need a wider entrance, you must expand the bathroom door. The Americans with Disabilities Act (ADA) states that an accessible doorway must be around 36" wide, unlike a standard one that is typically 24".
Conventional showers and bathtubs have a 4-inch step entrance to keep the water from splashing. However, this makes it challenging for people with mobility issues to access the shower. Remove the barriers so they do not hinder any disabled person. Our technicians can help with a new shower installation or bathtub installation.
Your bathroom is incomplete without grab bars. They let seniors hold onto something as they navigate and allow you to grab onto something should you trip.
Light switches can be tricky to find, especially when going to the bathroom at night. Motion-sensing lights are another great way to make a bathroom accessible.
Finally, lowering the countertop and elevating the toilet seat cater to the needs of the disabled.
Unique Bathroom Remodeling Ideas
Your bathroom offers a place to decompress and relax after a tiring day. So, whether you plan to go for a master bathroom remodel or one in the hallway, consider these unique renovation ideas.
Go for a Striking Paint Color
A fresh coat of paint can significantly boost your bathroom's aesthetics. Though most people prefer installing tiles since they last longer, if you do not mind yearly renovations, investing in paint can be a great way to spruce things up. Depending on your preferences, you can opt for cooler tones or darker colors.
Opt for Large Mirrors
Bathroom mirrors are often left as an afterthought.
However, they reflect more light into the room and beautify your space. Also, investing in large mirrors can make your space look larger than it is. You can opt for mirrors with adjustable LED lighting to resist clouding from a hot shower when getting ready.
Mount a Shower Bench
A shower bench is handier than you think. Not everybody prefers standing as they shower. Plus, people need a footrest when shaving or exfoliating. Therefore, installing one can considerably add to your bathroom's functionality.
Invest in Unique Lights
Ditch the standard bathroom lights. Go the non-traditional route and invest in pendant lights or chandeliers. They give a classic, timeless look to your bathroom, in addition to illuminating the space adequately, preventing fall hazards.
Simplify Storage
De-cluttering your bathroom can enhance its feel. So, instead of piling your bathroom essentials on countertops, stash them in storage cabinets. You can also opt for floating shelves to make for a contemporary look.
Get in Touch With Bathroom Remodeling Contractors in Tacoma
We're hard-wired to revamp our spaces time and again. However, fewer renovations are as impactful as your bathroom. It adds to your comfort and upgrades your daily self-care experience. However, choosing the right contractors is crucial to make any renovation project successful and ensuring you get value for the money.
Luckily, our Tacoma bathroom remodeling professionals use materials and quality standards to build the bathroom of your dreams. Regardless of the design you have in mind, our professionals are up for the challenge of making it a reality. It all begins after a consultation.
Once a contract is signed, our professionals demolish your old bathroom, make plumbing alterations, fix electrical work, and lay the tiles. Our technicians go above and beyond to transform your bathroom into a flawless space.
For example, our contractors add features like grab handles, shower doors, exhaust fans, lighting, and more. Since bathroom renovations are relatively pricier, homeowners hesitate to invest in remodeling services. Our contractors eliminate any hesitation by offering efficient services at budget-friendly rates.
Our specialists make remodeling look hassle-free and effortless with our experience and skill. Another thing that sets our experts apart is that our experts keep homeowners updated on all progress and timelines.