Hire Expert Tacoma Bathroom Remodeling Contractors Today
One of the easiest ways to breathe life into your home is to revamp your bathroom. Remodeling doesn't mean you need to start from scratch. Simply replacing your bathtub, shower, or vanity can significantly elevate the aesthetics of your bathroom.
Of course, you can go the deconstructing route and start all over again – it depends on what you want to accomplish and above all, your budget.
Our technicians are here to make your bathroom dreams a reality by converting your old space into a hyper-functional, accessible, and visually appealing one.
About Us
You could install bathroom features and intricate tiles, but over time, your bathroom may start to look dated.
As design and construction techniques continue to evolve, new ideas for bathroom remodeling will pop up. Even if your bathroom isn't worn out yet, you might start feeling that it looks outdated and could use a facelift.
Our construction and design professionals transform your old-school bathroom space using only quality materials.
With experience in the field, we've gained knowledge about the practical side of construction and contemporary design features. This enables our experts to convert your old bathroom into something that looks entirely new.
We're at your service whether you want to install a new shower or bathtub, go for a tub-to-shower conversion, or upgrade your entire bathroom. Our process begins by listening to your needs and brainstorming ideas.
From there, our experts measure your bathroom dimensions and outline the possible new design features that could be installed.
Since each bathroom is unique, our technicians assure our work is in line with your vision while remaining practical for use.
Our friendly, experienced, and trustworthy staff is dedicated to bringing your dream bathroom to life via a smooth process.
Update Your Tacoma Bathroom With Our Remodeling Experts
New Shower and Bathtub Installations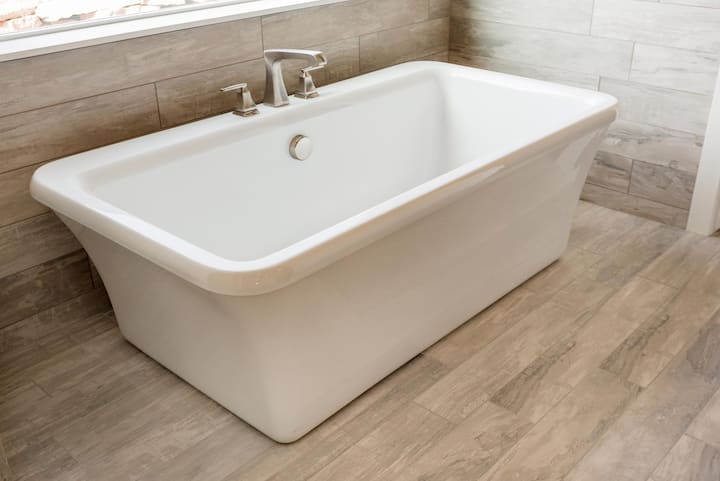 Regardless of your bathroom's shower and bathtub material quality, they'll deteriorate over time. This can become a risk for leaks, and also for your safety.
To ensure that doesn't happen, our bathroom remodeling contractors Tacoma team has developed reliable solutions.
Whether you want to replace your existing shower, install a new bathtub, or go for a shower-to-tub installation, our experts can cater to your unique preferences. Our dedicated staff goes the extra mile to understand your needs and ensure the results align with your goals.
Our specialists start by listening to your dream vision, learning about the budget you have to work with, and choosing materials accordingly.
We've also introduced new, distinctive, and more functional shower and bathtub installation features. From installing grab handles beside the shower to mounting the bathtub seat, our work will boost your bathroom's usability.
In case you or your loved ones have mobility issues, our professionals can also recommend a few more add-ons to make your space accessible for the disabled.
Showers and Bathtubs
Complete Bathroom Remodels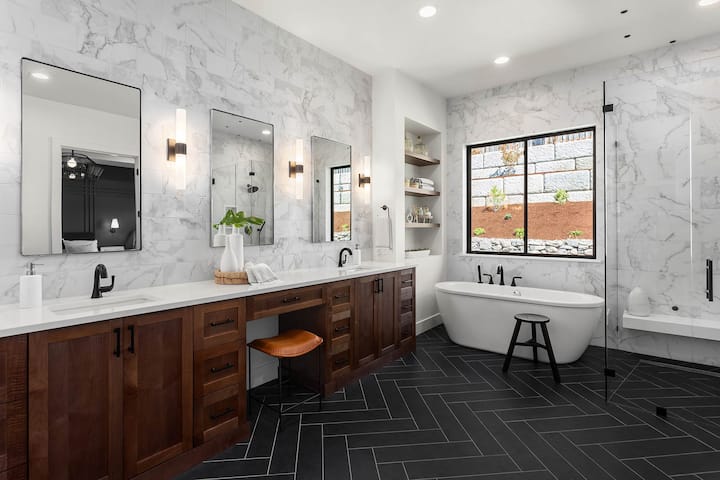 A new bathroom adds to your home's value, comfort, and style. Our experts remove old fixtures and materials and replaces them with visually appealing options.
With us, you avoid the headache of unreliable service providers, unmet timelines, and unpredictably high costs. From lighting to flooring to vanities and countertops, our professionals install elements to make up for a stunning and practical bathroom.
You can pick from custom-fit tubs, shower bases, mirrors, fixtures, and lighting options. Our technicians use efficient materials to resist water, mold, and mildew growth.
Since the bathroom is an area with moisture, specialized materials are required that endure the test of time and retain their look.
Our team stays on top of innovative practices and trends in the bathroom renovation space. Our experts bring new ideas to your vision and always strive to produce the results you dreamed of. Get a quote today and leave the rest to us!
Bathroom Remodels
Why Choose Us?
Since more homeowners turned to bathroom renovations in recent years, many companies have popped up claiming to offer these services. But skill, experience, and knowledge make a world of a difference when it comes to something as important as a remodel. Here's what sets our technicians apart:
We're Transparent
Many bathroom contractors claim to offer premium services, but not all are open about their experience.
Our technicians pride ourselves in our transparency. From sharing bathroom remodel costs to discussing timelines, they make the remodeling process more accessible for our clients. Our experts never keep you in the dark or serve you with unexpected charges.
Our professionals have the experience
There's a fine line between amateur and skilled contractors. New contractors may have lower rates, but their lack of experience can clearly show in the results.
When you entrust renovation tasks to experienced contractors, you can feel at ease about getting quality results that match your vision.
Having served numerous customers and transformed many bathrooms, our team of skilled contractors have the experience needed to provide quality service.
Our Staff is Available 24/7
Whether you encountered a sudden breakdown of a feature in your bathroom or are looking for a new look, feel free to reach out to us.
We're committed to providing quality services that make our customers happy.
Exciting Facts About Bathroom Remodeling
Let's face it. Bathroom renovation can be expensive.
However, think of it as a long-term investment – it pays back. Wondering how? Data reveals that bathroom remodeling can give you a 70% ROI when selling your home—surprising, right?
A lot more meets the eye once you plan a renovation. Researching remodeling services unveils more interesting facts. Here's what else you might not have known:
A standard full 4-piece bathroom is typically 40 square feet, and one with a separate shower is 50 square feet. A 3-piece bathroom is generally 36 square feet, whereas a 2-piece bathroom is 20 square feet.
12×12 inch tiles are most commonly used for bathroom floors. Likewise, 4×4 inches are appropriate for walls, and 3×6 inches are perfect for shower walls and tub surrounds.
Professionals recommend purchasing 10% more tiles than the actual measurement to make up for cutting. Also, spare tiles are helpful for the future – they come in handy during repairs.
Mounting paintings and other artwork can significantly boost the bathroom's aesthetic appeal.
Ditching a bathtub always helps make your bathroom more spacious.